Rough Terrain Pallet Truck
Posted in
News
By
Bryan Mattock
Monday, 11 September 2017 13:13:11 Europe/London
Rough Terrain Pallet Truck
Typically, Pallet Trucks are intended for use in smooth, even surfaced warehouses, and so for those in the agricultural and construction industries, the "typical" Pallet Truck, simply does not cut it. So if you have a rough terrain Pallet Handling problem, then maybe you would like to consider - the Pallet-trucks Team. Our Rough Terrain Pallet Trucks come in capacities from 500 – 1500KG, and have large Off Road Wheels, so when the Terrain gets tough, our Rough Terrain Pallet Truck gets going. For more information check out the link below, (you'd be a Crazy Fool not to):
https://www.pallet-trucks.co.uk/pallet-trucks-special-application/rough-terrain-pallet-truck.html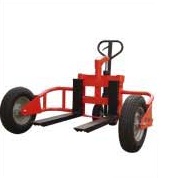 As with all Material Handling Equipment we would always recommend that all organisations have their own Health & Safety Risk Assessment conducted.